N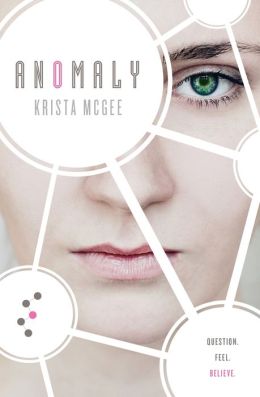 Normally, I don't read dystopian books (think Hunger Games). Our world is weird enough without imagining what it will be like in the future after a horrific war or tragedy. However, my daughter and I have thoroughly enjoyed
Krista McGee'
s other books, so I decided to give
Anomaly
a try. I am so glad I did.
Thalli is different. And different is not good in the State that is left after a nuclear holocaust. But she feels deeply. She tries to hide, but she can't. To avoid annihilation, she becomes a test subject. The story winds through her learning about the real Designer as she learns about love. This story scrapes away to the essense of what is important: God, love, freedom. The pages turn effortlessly...and the ending left me longing for the next installment.
Bottom-line? This is an engrossing read and one my husband and 12 year old enjoyed as well.
Thalli has fifteen minutes and twenty-three seconds left to live. The toxic gas that will complete her annihilation is invading her bloodstream. But she is not afraid.
Decades before Thalli's birth, the world ended in a nuclear war. But life went on deep underground, thanks to a handful of scientists known as The Ten. Since then, they have genetically engineered humans to be free from emotions in the hopes that war won't threaten their lives again. But Thalli was born with the ability to feel emotions and a sense of curiosity she can barely contain. She has survived so far thanks to her ability to hide those differences. But Thalli's secret is discovered when she is overwhelmed by the emotion in an ancient piece of music. She is quickly scheduled for annihilation, but her childhood friend, Berk, convinces The Ten to postpone her death and study her instead. While in the scientists' Pod, Thalli and Berk form a dangerous alliance, one strictly forbidden by the constant surveillance in the pods. As her life ticks away, she hears rumors of someone called the Designer—someone even more powerful than The Ten. What's more, the parts of her that have always been an anomaly could in fact be part of a much larger plan. And the parts of her that she has always guarded could be the answer she's been looking for all along. Thalli must sort out what to believe and who she can trust, before her time runs out…
Purchase a copy here
.
Learn more at Krista's website
.
Click to start reading Anomaly for free
.