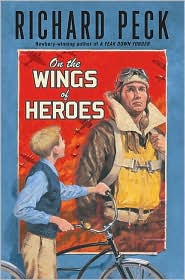 On the Wings of Heroes
is another great offering from Richard Peck. I loved this one because it told the story of a young boy and his friends in small town America while World War II was fought across the oceans. He illustrates what the war was like on the homefront in a way that truly entertains.
Here's the synopsis: Davy Bowman's dad looks forward to Halloween more than a kid, and Davy's brother, Bill, flies B-17s. Davy adores these two heroes and tries his best to follow their lead, especially now. World War II has invaded Davy's homefront boyhood. Bill has joined up, breaking their dad's heart. It's an intense, confusing time, and one that will spur Davy to grow up in a hurry. This is one of Richard Peck's finest novels—a tender, unforgettable portrait of the World War II home front and a family's enduring love.
Cara again: I love the way the story illustrates you can be a hero by donning the uniform or by living like one every day. This family was one that we loved to come back to the pages and read more about. My seven year old son loved it, and my ten year old daughter kept asking to read just one more chapter. Each chapter represented an experience Davy had that propelled him from childhood to becoming a young man. And the recapturing of the time and history was perfect. I loved it! This was our first try with one of Richard Peck's book and was a delightful start.
The School Library Journal also has this book at a 4-8th grade reading level.