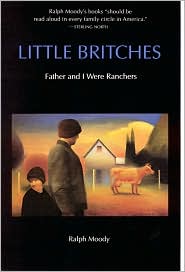 I remember my mom reading this book out loud to us kids at lunch time when we homeschooled. This spring I pulled it off the shelf to read to my kids. I had forgotten how rich the writing is. The characters leap off the page and come to life. I love that!
Here's the synopsis: Ralph Moody was eight years old in 1906 when his family moved from New Hampshire to a Colorado ranch. Through his eyes we experience the pleasures and perils of ranching there early in the twentieth century. Auctions and roundups, family picnics, irrigation wars, tornadoes and wind storms give authentic color to
Little Britches
. So do adventures, wonderfully told, that equip Ralph to take his father's place when it becomes necessary.
Cara Again: one little note. One of the ranchers uses a bit of colorful language. The kind I had to edit as I read. I didn't remember that, which probably means my mom did the same thing. That is the only caveat on this book. And I would encourage you to get the book. My ten year old daughter enjoyed the stories and the family immensely. But the life lessons on how to grow up to be a man of character are incredible. The father is full of wisdom that is passed to us through the books pages. All of your kids will enjoy these stories of growing up on a ranch in Colorado at the turn of the century, but your boys will especially love it.
Just a note: the ending is sad...but the book leads you there with compassion. And it was real life back then.