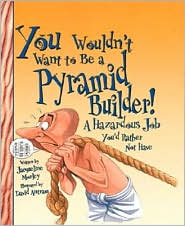 The other day my kids and I walked into the children's section of the library... a common occurrence. What was unusual was the display the librarians had assembled of history books. These books had cartoonish covers and touched on a wide swath of history. But the take was unique...perfect for tween boys. Why you wouldn't want to be...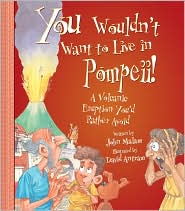 on the Mayflower
at the Boston Tea Party
in Alexander the Great's Army
a Victorian Mill Worker
an Aristocrat in the French Revolution
live in Pompeii
and many, many more titles
My son just spend twenty minutes telling me about several of the books and why I should read them...which I will especially the one on World War II pilots.
The covers are great, drawing him in, especially after he discovered the focal character of the book is often depicted on the cover. And the colorful, cartoon style continues inside the book. Each two-page spread has a paragraph or two of text and a bunch of drawings that are filled with short snippets of facts. Guess which ones my son read? Yep, the snippets. There is also a Handy Hint which he read.
So if you like to read comics, but aren't so into history books, give these a try. I think you'll enjoy learning all sort of gross facts like the Romans and their Britton enemies both liked to cut off and collect the heads of their slain enemies. EEEWWW!